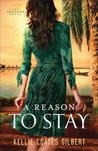 A Reason to Stay by Kellie Coates Gilbert, is the third book in the Texas Gold series.
In this book Faith Marin has to learn to balance her job and marriage. When faced with difficulties she wants to shove away those that she needs the most...God, her husband and family. This book shows her struggle to learn how to turn the lead over to God and allow him to guide her.
Through the story the reader discovers how two very different people can make a marriage work if God is invited in. I feel like this book can help the reader look at their own pasts and their future, pray before making life-changing decisions.
A wonderful book that is easy to sit down and read quickly.